Brewing kombucha is one thing but learning more about its mysterious properties is another milestone as a booch advocate. Reading kombucha books can help you cultivate your knowledge about fermentation techniques and discover new delicious kombucha recipes. 
Unlike other beverages, there are limited resources about kombucha, not to mention books that entail its mysterious history. In this post, we will share the kombucha books written by the first doctors who studied its health benefits up to the modern-day comprehensive fermentation guides written by kombucha advocates and fermentation experts.      
12 Kombucha books worth geeking out in 2022
The art of fermenting kombucha opens the door for every brewer to learn more about the life of bacteria. Some curious brewers get more into the science behind the kombucha fermentation process which is comprehensively explained in books written by long-time passionate brewers and researchers. 
Take a tour from the humble beginnings of kombucha by checking out the top kombucha books that have triggered controversies and marked kombucha in history below: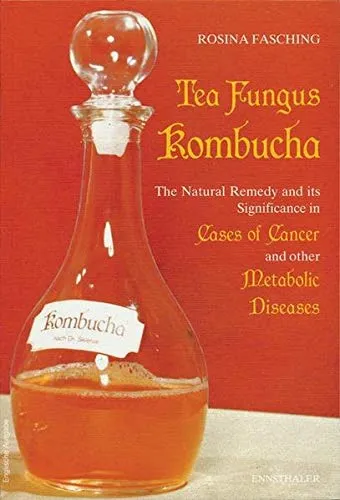 Tea Fungus Kombucha was published in 2017 by Rosina Fasching to share the life work of her uncle, Dr. Rudolf Sklenar. In kombucha history, Dr. Sklenar is the first doctor who studied the health benefits of kombucha after World War II. He developed his specific way of cancer diagnosis through the iris evaluation and has conducted a biological cancer therapy using kombucha as the main agent. 
What's in the book?
Early discoveries of Dr. Rudolf Sklenar about the effects of kombucha.
The initial proposition where kombucha might help contribute to cancer and other metabolic disease treatments.
The history of kombucha after World War II and how it spread to other continents. 
The analyses of Dr. Sklenar on how he used kombucha as the main agent in biological cancer therapy.  
This book is a gem if you are curious about the history of kombucha and the first attempts of Dr. Sklenar to discover its healing properties that sparked the cancer-healing effects of kombucha. Thanks to Rosina Fasching, the 30 years' worth of research and trials of Dr. Sklenar didn't go to waste and can now contribute to future studies about kombucha.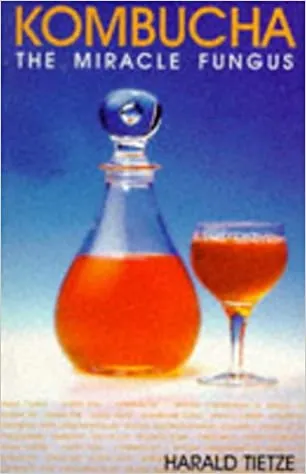 This book is among the earliest handbooks for kombucha lovers back in the 90s. It contains the history, health benefits claims, and instructions on how to prepare kombucha. It is among the mass-produced kombucha books that have reached Australia, Europe, and the US.
Harald Tietze is one of the renowned authors who braved discussing the healing potential of kombucha after Fasching. He has written over 30 health books that focus on the healing benefits of specific trees and peculiar sources of health like urine. Kombucha: The Miracle Fungus is his most popular work that piqued the curiosity of new-wave kombucha advocates like Michael Roussin. 
What's in the book?
Health benefits cases about kombucha. 
Interesting facts about kombucha and tips on how to revive an underperforming SCOBY. 
Early kombucha fermentation practices. 
The early developments about kombucha from an advocate's point of view. 
Harald Tietze has a more researched approach to kombucha than the ones available during his time. He was able to document the early and unusual practices of kombucha preparation during his time. It even mentions the use of big punch bowls for kombucha fermentation back in the day!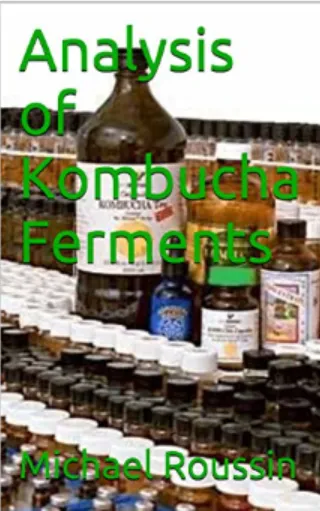 Kombucha has faced a lot of controversies over the past years. There are a ton of conspiracy theories formed that have caused debates among advocates. One of which is the caffeine consumption of SCOBY during the first fermentation. 
Through this book, Michael Roussin sought to debunk the beliefs about caffeine-consuming SCOBY by conducting some analyses and experiments with his team. Inspired by the works of Harald Tietze and Rosina Fasching, he aimed to disprove myths and warnings about kombucha. 
What's in the book?
Scientific analysis of home-brewed and commercially-available kombucha.
A thorough chemical investigation of the purported death due to kombucha consumption.
Experiment and analysis conclusions against the reported hepatotoxicity of kombucha to the liver as claimed by the US Health Department. 
In-depth chemical analysis of the reported improved health of kombucha drinkers.
This book will try to answer the doubts and recurring questions of kombucha advocates about kombucha. If you're a kombucha drinker and aim to prove the health benefits and safety of drinking kombucha, Roussin's work is probably one of the most thorough modern-day analyses that can help justify your beliefs and support future studies about kombucha's health benefits.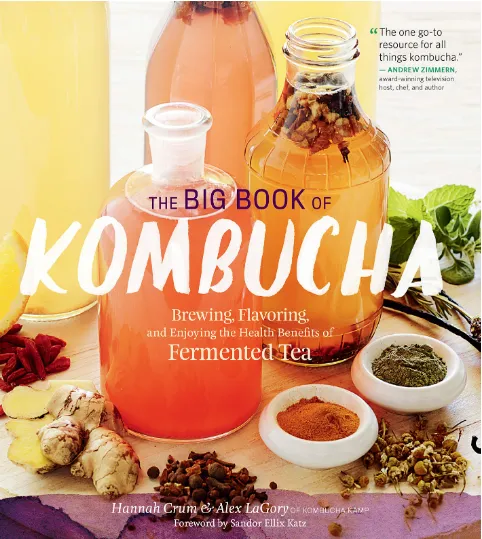 This award-winning book is probably the bible of every kombucha brewer today. It is the most comprehensive guide that helps introduce kombucha to the non-initiated. In 2016, it won the Silver Nautilus Book Award and has been reviewed by prestigious literary institutions for its adept approach to discussing everything about kombucha. 
Hannah Crum is the founder of Kombucha Kamp, the biggest resource about kombucha online. She and her partner Alex LaGory is on a mission to spread the art of fermenting kombucha and help more people become healthy, one gut at a time. 
What's in the book?
Beginner's introduction to kombucha.
400 kombucha recipes to try at home.
200+ flavor combinations.
In-depth instructions on how to brew kombucha.
Detailed kombucha history and its health benefits.
How to use kombucha in dishes.  
The Big Book of Kombucha is every brewer's best friend and contains an invaluable guide for beginners who want to explore the kombucha fermentation realm. Let this book teach you the basics and complexities of kombucha fermentation and be part of the growing kombucha community.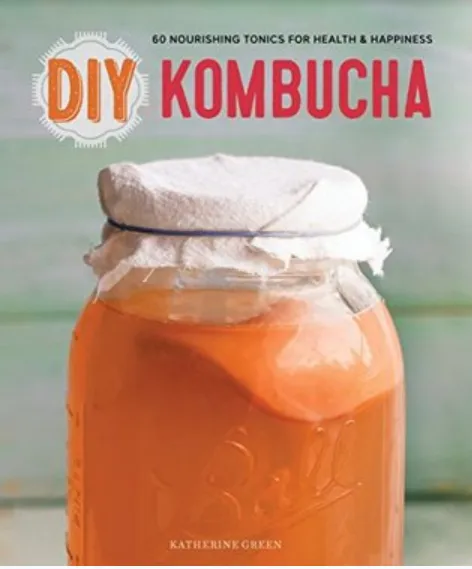 This beginner-friendly book will guide you throughout the kombucha brewing process. It aims to showcase the potential of kombucha in nourishing your gut health and learning how to use it in healthy meals and drinks.
Katherine Green is a certified nutritional therapist from Portland, Oregon who focuses on special diets. She's a fermentation enthusiast and has written several books about it using other methods like canning and pickling. 
 What's in the book?
Introduction to kombucha fermentation.
An in-depth guide on how to incorporate kombucha in special diets and beverages.
Kombucha cocktail and mocktail recipes.
Detailed discussion about kombucha history.
Ingredient conversion charts for brewers. 
Consider this book as a stepping stone as you start your fermentation journey and tackle more complex kombucha brewing techniques.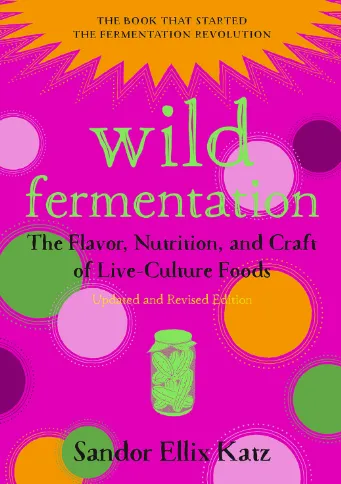 The works of Sandor Katz have marked the way in the revival of wild fermentation and food activism against industrial food production. Wild Fermentation is Sandor's manifesto and comprehensive guide about the advantage of natural fermentation processes in local communities.
Sandor Ellix Katz, known as Sandorkaut, is a fermentation revivalist and food activist who uses the benefits of fermentation to manage his HIV. New York Times dubbed him as one of the rock stars of the American food scene due to his contributions to the fermentation industry. 
What's in the book?
The concept of wild fermentation and its advantages.
Basic and exotic fermentation recipes. 
Multinational and cultural fermentation techniques.
Sandor's way of using fermented foods in his nutritional well-being as an HIV-positive.
Take a different view about fermentation and appreciate its natural processes through Sandor's compelling insights. This book is best for kombucha brewers who seek new ways to improve their brews and strengthen their advocacy in promoting kombucha.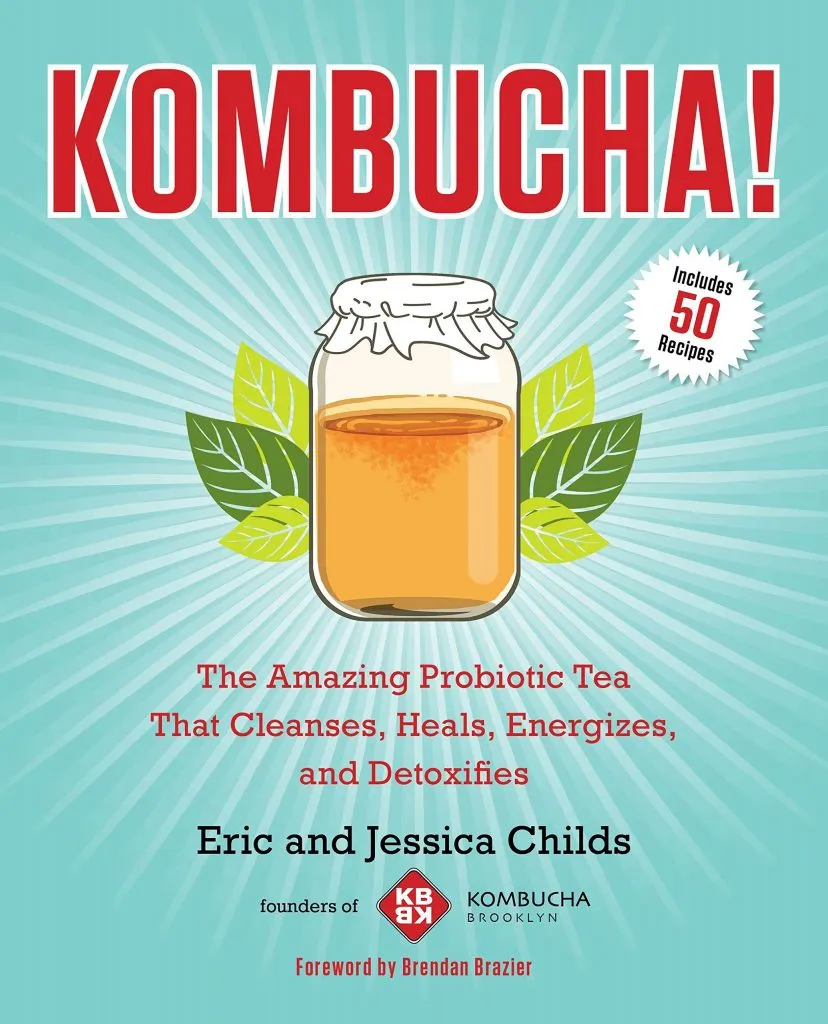 Science-filled kombucha books can be boring or overwhelming for some. Kombucha by the married couple Eric and Jessica creates a twist by helping brewers learn through a fun and comical journey. The book aims to blend fun and learning to understand the whys of kombucha fermentation. 
Eric Childs is the CEO of Kombucha Brooklyn, a company that provides brew kits for beginners. His wife, Jessica, has a degree in microbiology and is a certified chef. Their passion for a healthy diet and kombucha advocacy helps more people learn about the benefits of kombucha and how to use it in foods and drinks. 
What's in the book?
Illustrations on how to use kombucha.
Kombucha recipes and flavor combinations. 
Ways to use kombucha in beauty products.
Contamination guide during fermentation. 
This book takes readers on a simpler and humorous learning experience about kombucha. It is a good book for those who love light reading without getting overwhelmed with geeky chemical names and experiments. 
Do you want to stop drinking soda but can't find the will to do so? This book might help you go cold turkey and start the path towards healthier drink alternatives like kombucha and kefir. 
Authors, Alex Lewin and Raquel Guajardo are two passionate fermentation advocates and culinary experts who specialize in delectable beverage selection made from nutrient-dense and gut-healthy ingredients. Alex has a degree in Culinary Arts from Cambridge while Raquel spearheads a cooking school in Mexico. 
What's in the book?
Why fermentation is a healthier beverage option.
Fermentation history and the benefit of traditional foods.
The health benefits of fermented beverages.
Guide on how to ferment kefir, kombucha, and other drinks at home.
Quick recipes on lassis, fermented lemonade, and more.
Guide in using starters for brewing kombucha, kefir, root beer, wine, and other fermented drinks.
Invaluable recipes for kvass, switchel, vinegar, and mead.
Safety, risks, and modifications of fermentation.
When two health-conscious culinary experts like Alex and Raquel combine, expect an explosion of new flavors that are both healthy and delicious. This book can help you save a lot of money by encouraging you to make healthier drinks at home that don't fall short on their exquisite taste.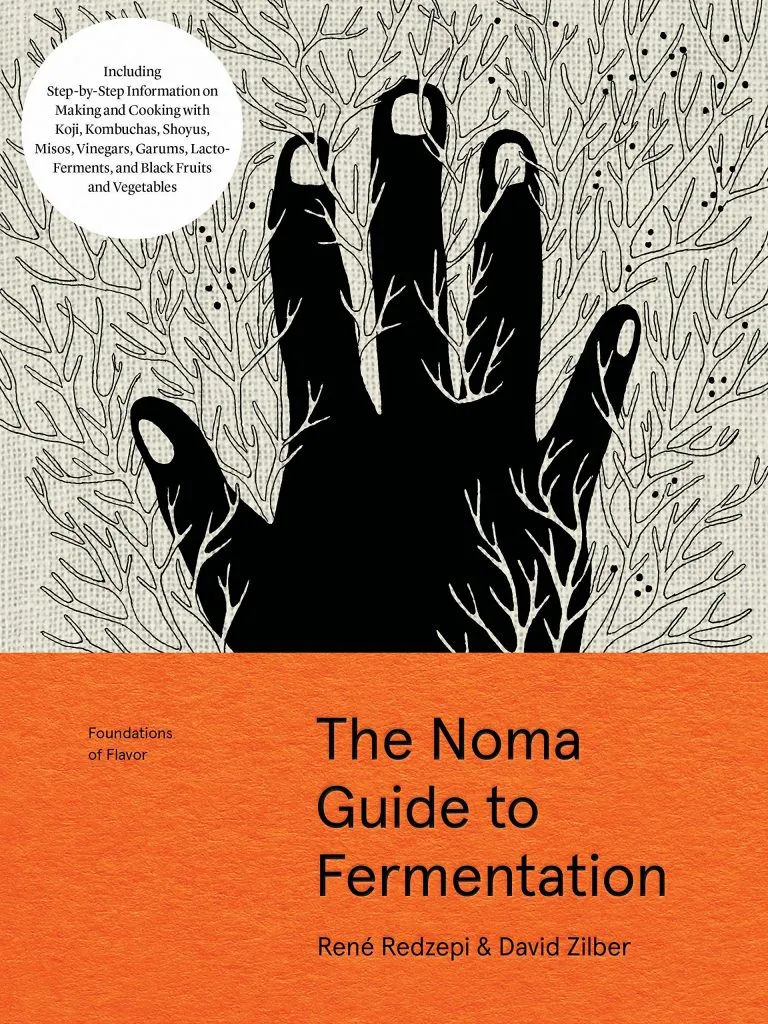 One way to achieve the best-tasting dishes and drinks is by learning from the practices of the former best restaurant in the world. Noma is a three-Michelin-star restaurant in Copenhagen, Denmark that became the top restaurant in the world for several years. It is known for chef Renè Redzepi's world-class gastronomic and healthy cuisine and an artistic approach to culinary practices. 
In this book, Rene shares the invaluable role of fermentation as the secret behind the trademark dishes at Noma. Along with David Zilber, he teaches the fermentation techniques they use from making shoyu (Japanese soy sauce) to kombucha to level up the flavor of every dish. 
What's in the book?
Edible experimentation and culinary adventures using ferments.
Hundreds of time-lapse fermentation photos. 
Fermentation equipment guides.
Guide in using new ferments.
Traditional ways of fermentation.
Step-by-step illustrated fermentation guide. 
This book is best for those who are ready to level up their kombucha brewing skills and explore the fermentation techniques of the best culinary experts in the world. Through this book, Rene and David will pique your curiosity about the art behind the technical methods of fermentation.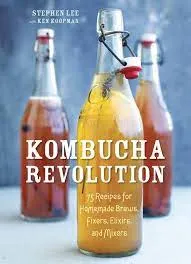 As a tea enthusiast and CEO of Kombucha Wonder, Stephen Lee shares his adventures in using kombucha in all-time favorite shakes and salads as well as its health benefits. This book is beginner-friendly and contains easy recipes and all the resources you'll need to jumpstart your fermentation journey.
Stephen Lee is one of the pillars of the tea business in the US. His passion for tea led him to visit Russia where he accidentally learned about the existence of kombucha. As soon as he discovered more about its delicious and versatile flavor, he established Kombucha Wonder in 2001. 
What's in the book?
Kombucha basic and fermentation guide.
Kombucha history and fermentation techniques.
Detailed easy-to-do kombucha recipes.
Stephen Lee's first encounter with kombucha.
Stephen Lee's discovery of kombucha and his recipes are written in a fun way so that any beginner won't feel intimidated and overwhelmed with the technicalities of fermentation.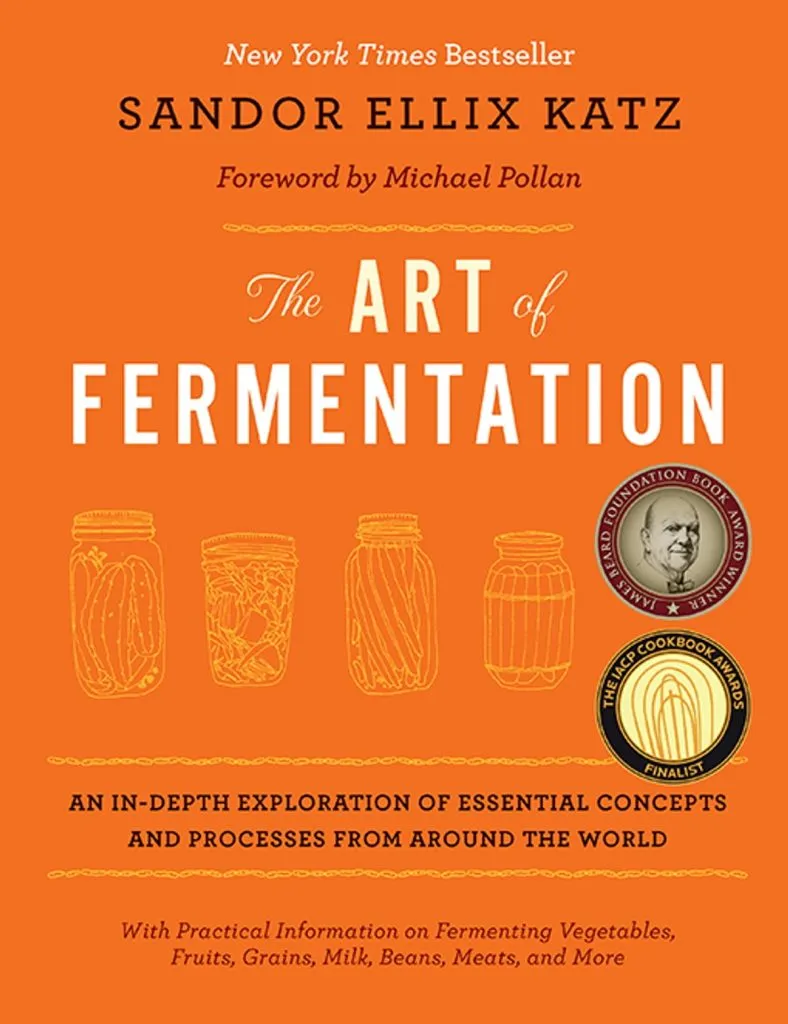 This book is the recipient of the James Beard award and the New York Times Best Seller in 2014. It is one of Sandor's best works that has encouraged thousands of people to begin their fermentation journey. Several parts of this book have been quoted in most research and books about kombucha. Even Noma chef Rene Redzepi regards Sandor as the OG of fermentation.  
The Art of Fermentation provides the DIY approach to fermenting your food and being free from the fragile structures of the commercial food industry. Sandor has a way of sharing the value of fermentation beyond its unique flavor through a whirlwind of economic, cultural, and philosophical points of view. 
What's in the book?
Fermentation concepts and cultural fermentation techniques. 
Sandor's manifesto on localized food production and independence from global trade.
Contribution of fermentation in health and nutrition.
Illustrated guide on fermentation processes.
Safety parameters during fermentation. 
Effective fermentation techniques. 
Cultural evolution of fermentation. 
Check out the hype behind this book and see how it will change your views about kombucha and other types of fermentation. It will make you realize that after all, Hippocrates is right when he said food is thy medicine.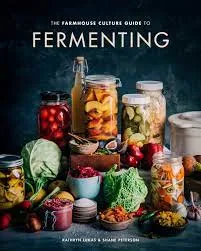 This book is a fermentation cookbook for every fermenter and preservation enthusiast. As the brainchild of two fermentation gurus, this book contains the history, nutrition benefits, and fermentation recipes from kimchi to kombucha that you can pass down to younger generations.
Kathryn Lukas is the founder of the award-winning company, FarmHouse Culture and a former chef who traveled the world to learn the ancient fermentation techniques of different cultures. Her partner, Shane Peterson, is a best-selling cookbook author and a passionate advocate of fermentation. 
What's in the book?
Illustrated guides on fermentation.
Flavorful and creative fermentation recipes. 
Kombucha history.
Kathryn's discovery about kombucha in Germany.
This book gives you a thorough journey about kombucha history, the must-know technicalities in fermentation, and delicious recipes presented in a beautiful and aesthetically-pleasing layout.